3 Manual - Barton Theatre Organ
3 manual 12 rank theatre organ
Single Screen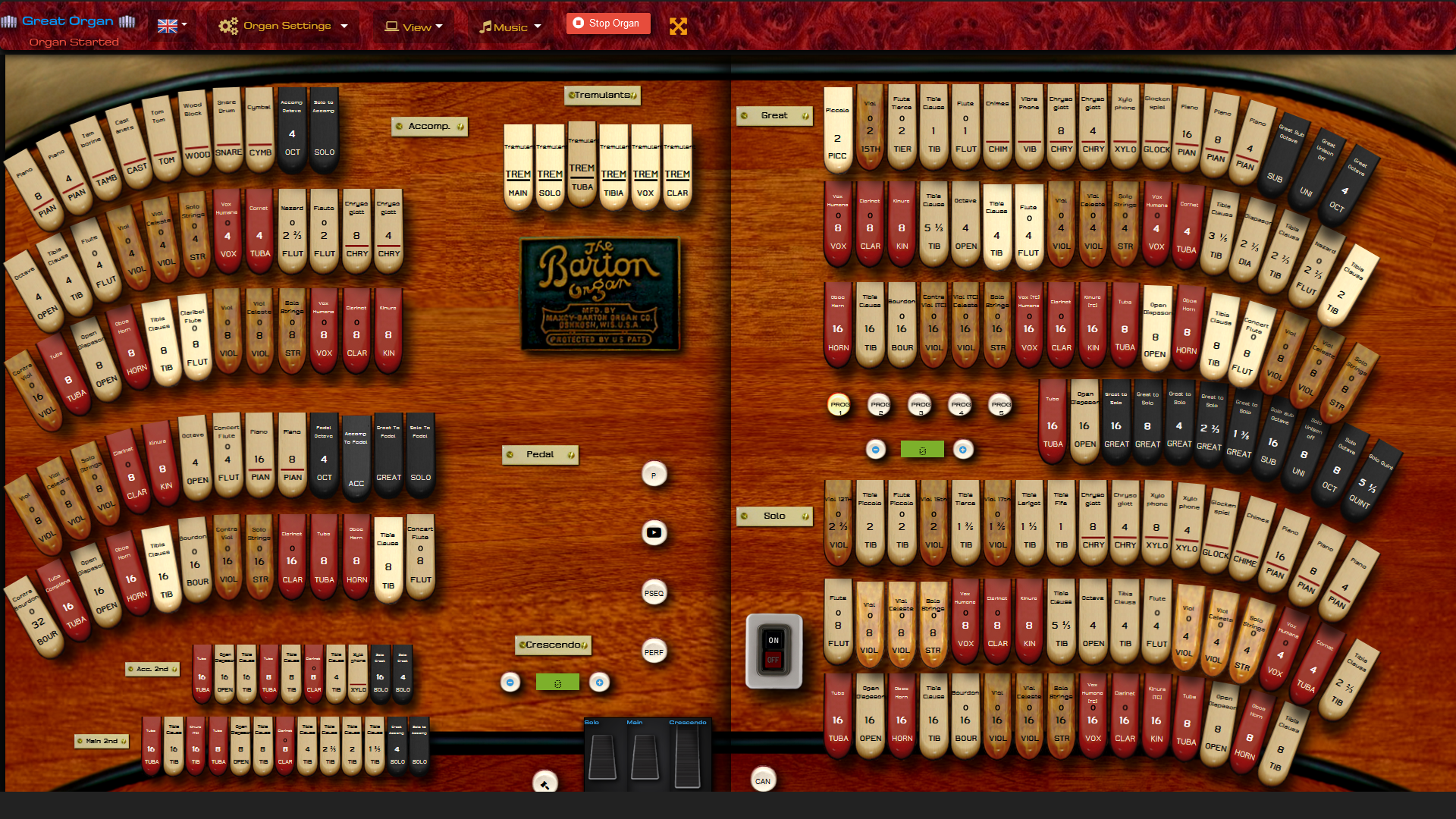 Single screen / Laptop screen view
---
Dual Landscape screens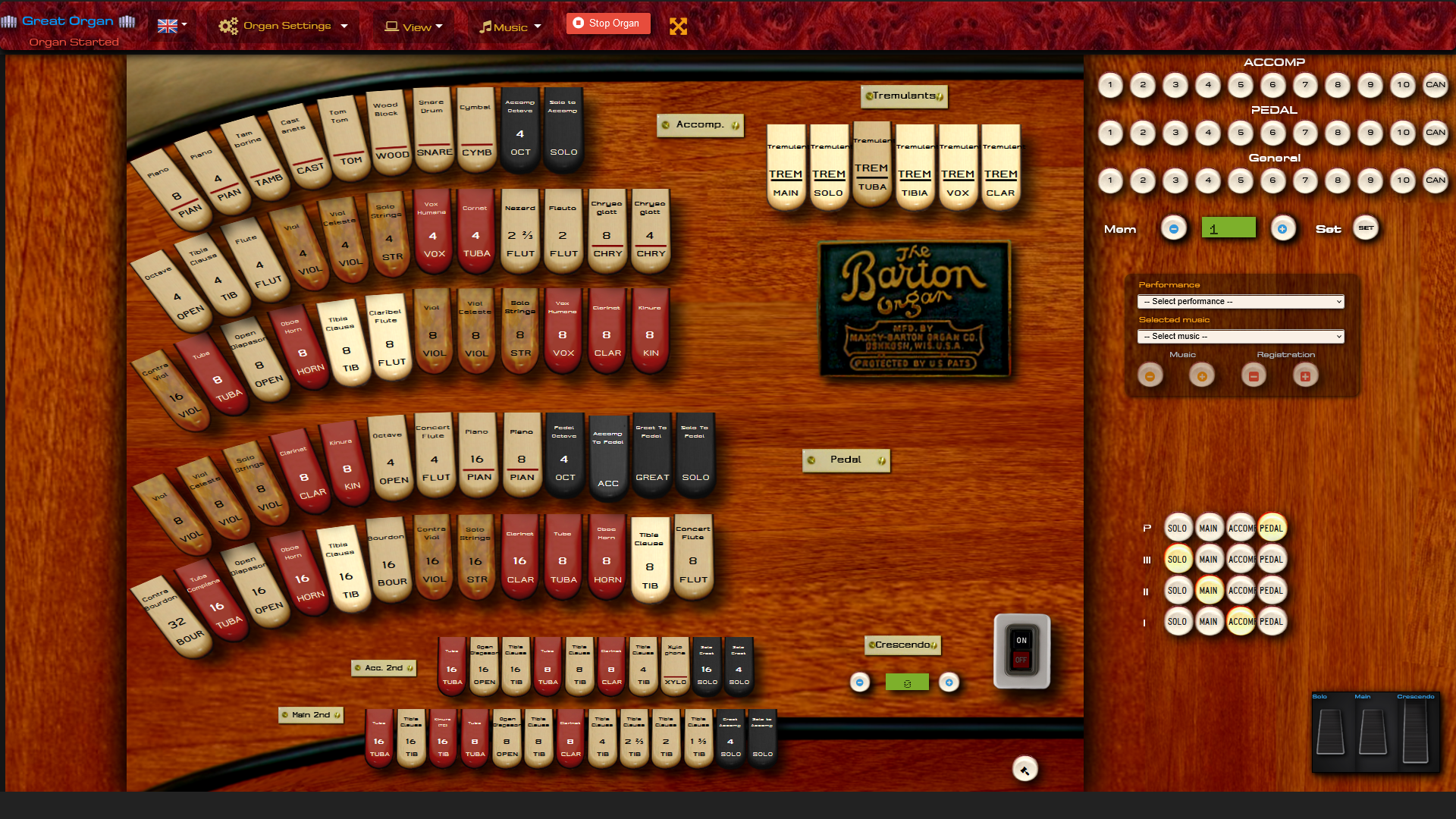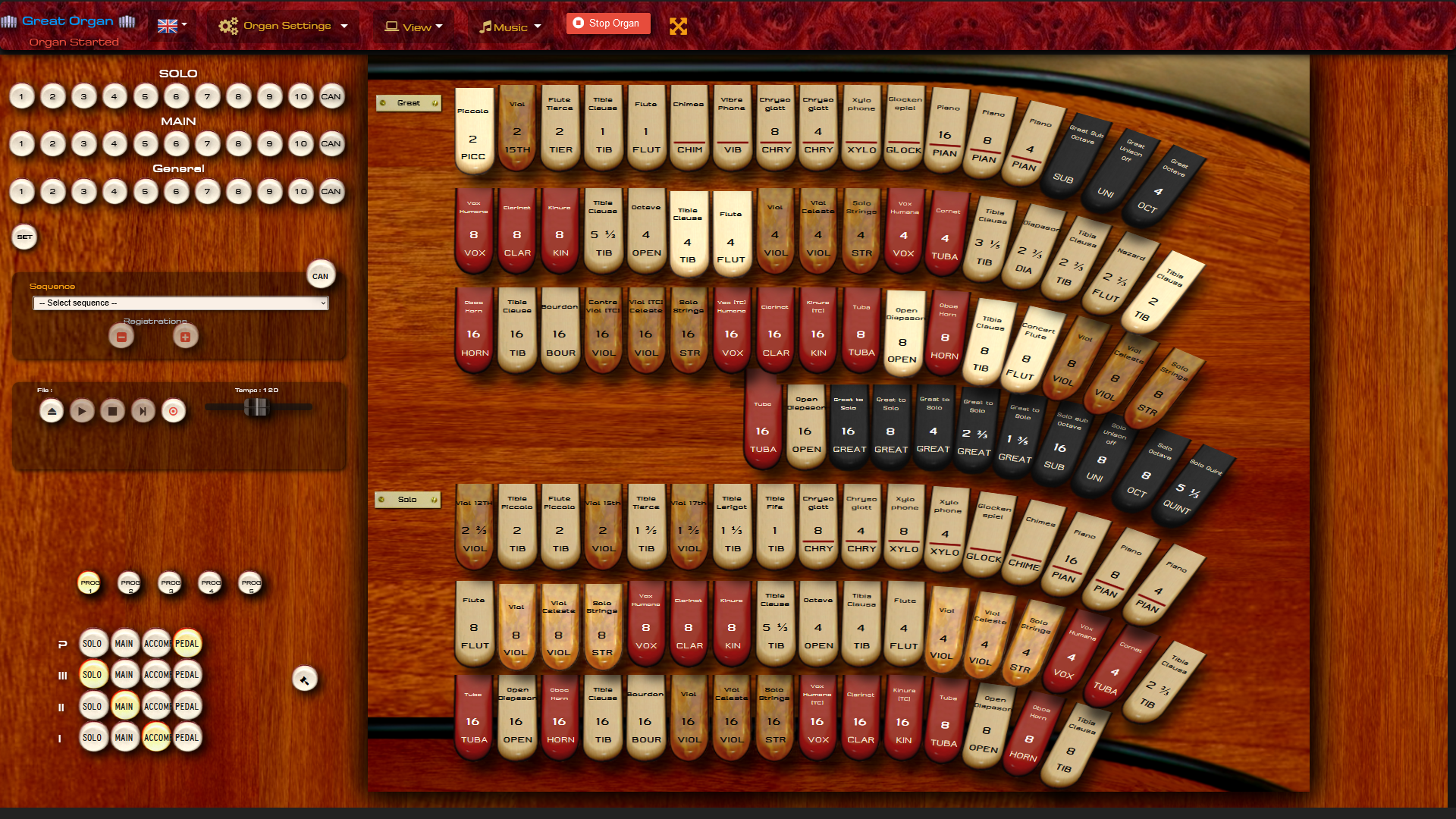 ---
Dual portrait screens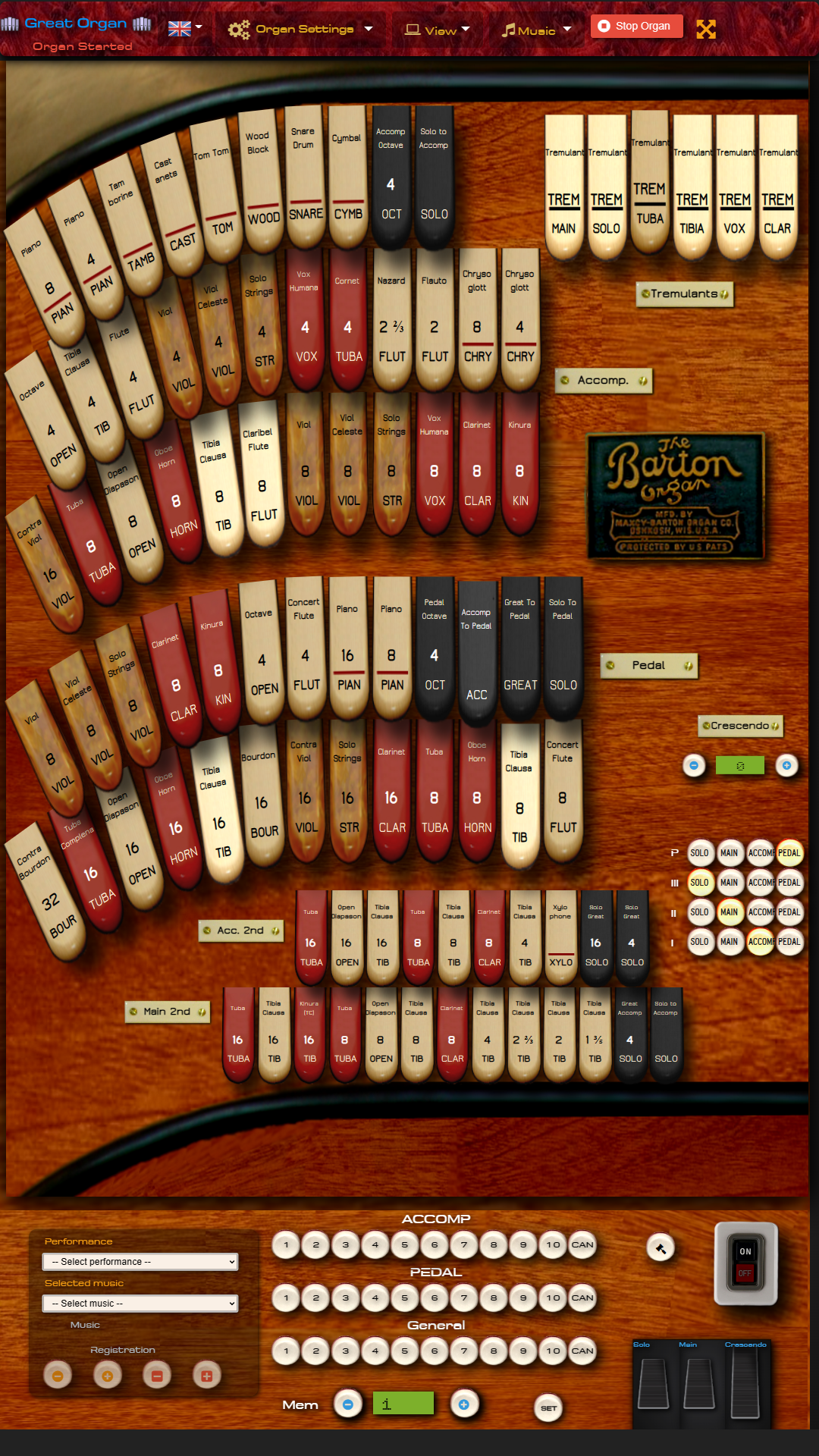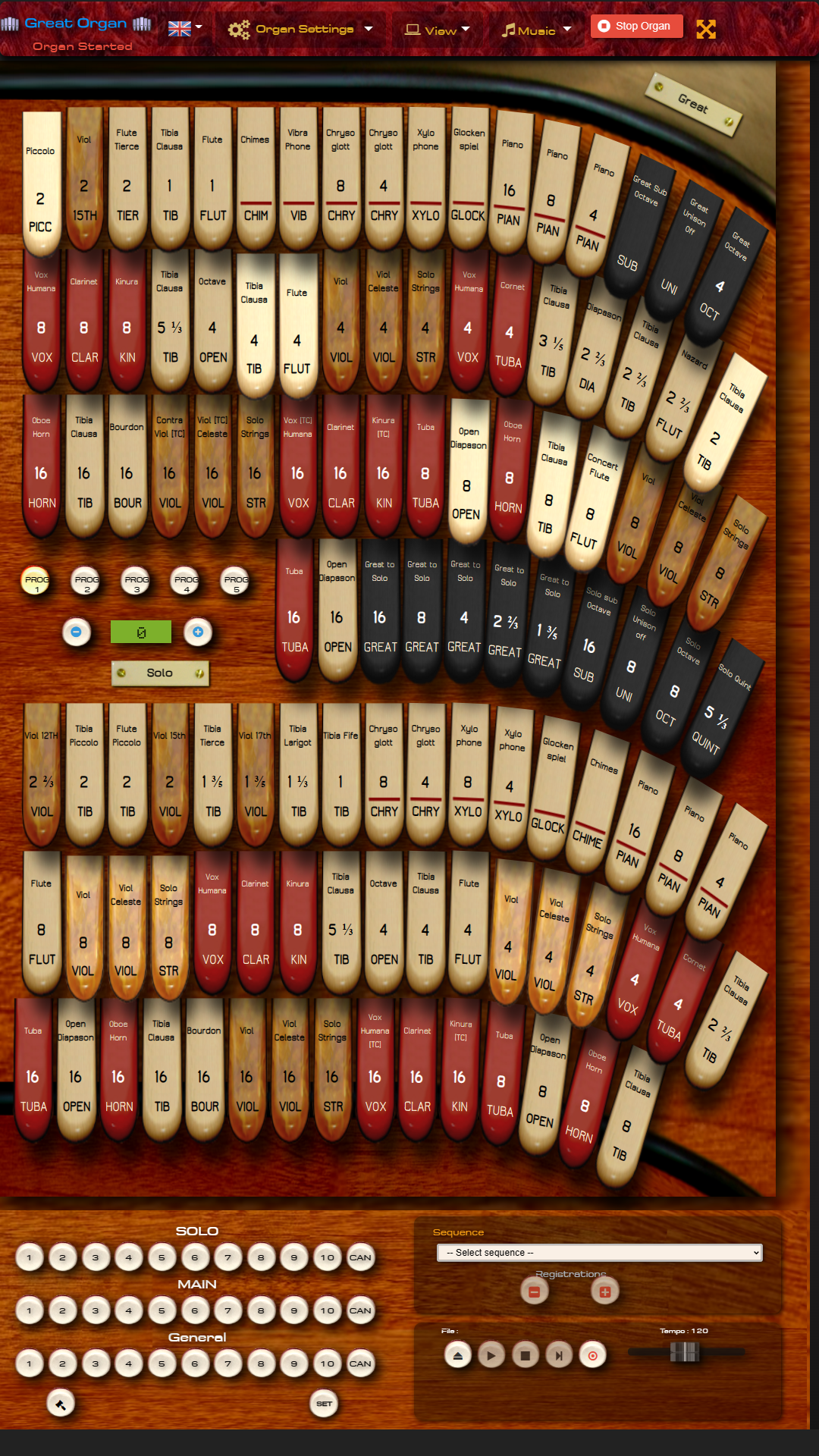 ---
The Organ.
This organ sample set was very kindly provided under the Creative Commons Licensing agreement by Graham Goode of SA Virtual Organs.
This disposition is largely based around the Redford Barton organ and was created by us with the considerable assistance and support from Graham.
We are most grateful to him for him allowing us to use this sample set on the Great Organ platform and create this superb instrument.
Making organs free to all isn't without financial cost and does involve a lot of hard work! If you enjoy this instrument, please visit Graham's web site to make a donation towards his ongoing work. Our development team have matched Graham's generosity by also agreeing to create the disposition for free, so please enjoy!
SA Virtual Organs
16 Bit Stereo and 5.1 surround sound (Compact Disc quality).
Tuning 440Hz
---
Organ Specification
Details to be updated shortly
---
Latest software -1st January 2023
Download Barton Theatre Organ v3.0.0.0
Software download links are only available to signed in registered users
to create a free account with us OR
to your existing Great Organ account
---
Obtain free license for Barton 3 manual 12 rank
Only registered users may purchase software or organs
Software remains in evaluation mode until a license key has been obtained and the base software is also licensed
Obtain a license for this software securely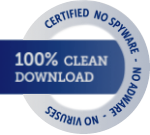 Please note - You must enter the software installation code in your account details before any activation keys can be generated. Please ensure it is correct before proceeding or making any purchases. Our licensing system can only generate licenses when it has a valid installation code registered against your account.
Registration codes will appear immediately following a successfully purchase in your account details section of this site
---
Compatible with
Windows x64
Windows 10 / Windows 11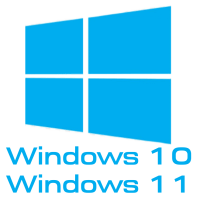 Windows 10/11 x64 - Intel i5 6th Gen or better
16Gb+ RAM (ideally DDR4)
128Gb+ SSD or M2.SSD
Ideally using dedicated soundcard
Apple Macintosh
Apple OSX Intel based systems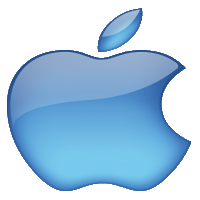 OSX 10.14+ (Mojave) x64 - Intel based x64
16Gb+ RAM (ideally DDR4)
128Gb+ SSD or M2.SSD
Ideally using dedicated soundcard
Linux Intel x64 distributions
Linux Intel x64 distributions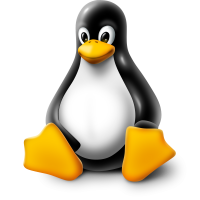 Debian/Ubuntu based distributions v20.0+ - x64 base (Linux Mint / Ubuntu)
16Gb+ RAM (ideally DDR4)
128Gb+ SSD or M2.SSD
Ideally using dedicated soundcard
---